The basic family history book may not be as in-depth as some people want. For those families and storytellers, the templates from MyCanvas can create and shape one person or one family's unique life. Consider creating a custom life history book like this one using MyCanvas! Use custom design and layout to turn the templates into a deeply personal, in-depth recollection of one family member's life.
Find Your Narrative
It seems most intuitive to start at the very beginning: the day your ancestor was born. But it doesn't always have to start there! Find a hook in your ancestor's story, like the moment they married or the moment they emigrated to a new town or country.
Tip: Are you telling your own story? Finding that hook can be extra important! A completely chronological story can have a slow start, and may not be as engaging if the story is very long.
Wherever you start, it helps to find a theme for your book. Are you focusing on an individual? One family? Or a particular theme among many family members (such as immigration or military service)? Themes help you pair photos and stories.
Related: Writing Better Family Histories
Use Historical Context
Turn your book into an educational experience! There is a lot that modern readers might have forgotten or simply don't know about. Take the chance to share teaching experiences! If there's a little detail that offers historical background, share some tidbits about it. If your ancestor (or you!) lived through certain historical events, you can add in details about those as well.
Yes, putting context into your family history means doing a little bit of extra research. But there's a fix for that! If you have your records and pedigree on Ancestry.com, the site provides historical insights on your ancestor's timeline. This helps you find starting places for your research!
If you're going this route, or using other historical data, add pages that use Ancestry data. These can provide interesting trivia about your family member. They also can provide quick layouts you can edit to suit your needs.
Right-click on one of the layouts at the bottom of the Project Editor window.
Choose Add Pages at the top of the menu.
In the sidebar on the left under Themes, find Family History.
Each style (Classic, Elegant, Family History) will have page options, from record pages, timelines, and descendant trees to photo layouts and recipe pages.
Design Tips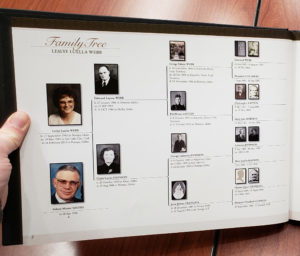 Divide up long stories. It can be hard to read one giant wall of text. Pair information near relevant photos, and don't be afraid to spread out those stories over multiple pages.

However, if your story crosses only two pages, make sure those pages are in the same spread [page layout]! It generally looks better and reduces confusion over turning pages to keep up with a memory.
If you don't want to spread your story over many pages, try using columns to cut up that wall of text. Use the Grid feature at the top of the Project Editor to make sure lines of text align properly between columns.

Group stories and photos by themes as well as points in your subject's life. You might try organizing sections by a family member's early life, raising a family, and later years, as a start.
How will you make your family history book more unique to your family? We want to hear from you!