Ever wanted to get a little more personal with your ancestors' stories? Consider creating a custom life history book like this one using MyCanvas! This book comes from our family history book templates with considerable custom design and layout to turn the templates into a deeply personal, in-depth recollection of one family member's life.
Why a Life History Book?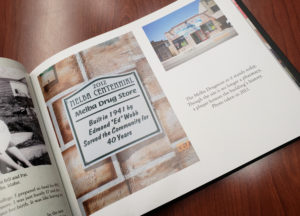 The information that comes from Ancestry can be quite in-depth. Memories, records, and photos come attached to each person's file. You can import all of these into your MyCanvas book with just a few clicks.
However, the basic family history book may not be as in-depth as some people want. This particular book centers around one person, covering her entire life in stories and photos. It's a way for this family to honor someone dear to them and to preserve those memories with one another.
The editor and creator of this book used a combination of custom layouts and pre-made layouts already in our Project Editor to create this book. This route does take a little more time, but as shown in this sample, it can be worth it!
A Personal Tribute
The creator of this book–the subject's granddaughter–shares her experience:
For the last couple of months, I've had the honor of working on a book that compiles stories and photos of my grandmother's life. She passed a few years ago, and my family wanted to hang onto her memories in physical form. Ultimately, we decided on one of the books from MyCanvas. The personalization options and layouts made it easy to use, so MyCanvas was a good option. 
I was able to connect with her siblings, children, and my cousins to gather stories, photos, and memories. There was so much I hadn't ever heard before regarding my family. Reaching out and keeping up communications with my family was a great way to come together.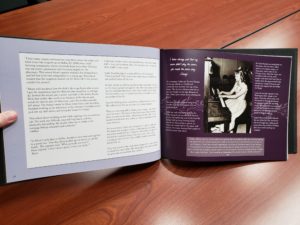 We compiled our memories and stories in a Google Doc. This was a nice way to collaborate. Everyone could offer their input on a story, correcting misinformation or using another's memories to spark their own.
I work as an editor, so I was able to polish the stories shared with me into a flowing narrative. She lived quite an eventful life!. She had a mischievous childhood, a life of travel, and a huge family that loves her. Once, my grandmother once returned to her home in Argentina to find an intruder inside. Despite being pregnant, she took up a heavy wooden vase and charged into the house to chase out the would-be thief!
I also gathered far more photos than I had ever expected. Most of them capture my grandmother's sweet smile and joy, which was a great way for me to remember her.
While putting the book together, I've been able to capture her memory and feel as if she's near me again. I've also been able to hear from my family as they've shared stories I've never heard and communicated with me. I'm happy to have created this project with MyCanvas.
Your Personal Experience
You too can create books like this that center around one family or one person! It's easy to convert a MyCanvas family history book with data from Ancestry into something a little more in-depth and personal. The designer of this book offered some of her tips: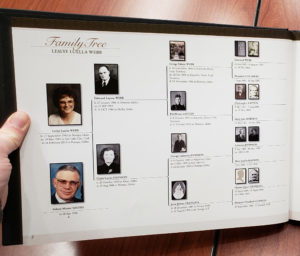 Columns were a great way to divide up longer stories. Use the Grid feature at the top of the Project Editor to make sure lines of text align properly between columns.
Check the layout of your pages at the bottom of the Project Editor window. You'll be able to decide better if you like those colors or layout styles together.
Group stories and photos by themes as well as points in your subject's life. I grouped them by her early life, her years traveling with her family, and her later years. In between these, I put stories of her with her children and then with her grandchildren. There are some color themes in the book that helped me decide where to put certain photos or stories, and that help to enhance the story.

Decide on those groups or themes early so that you can ask for them from your family ahead of time, especially if you are working on a deadline.

Use the family history pages with Ancestry data. These can provide interesting trivia about your family member. They also can provide quick layouts you can edit to suit your needs.

Right-click on one of the layouts at the bottom of the Project Editor window.
Choose Add Pages at the top of the menu.
In the sidebar on the left under Themes, find Family History.
Each style (Classic, Elegant, Family History) will have page options, from record pages, timelines, and descendant trees to photo layouts and recipe pages.
How will you make your family history book more unique to your family? We want to hear from you!