Spring may feel far off in the dead of winter, but it's approaching faster than you think! And with spring comes a busy wedding season. Make sure you're ahead of the curve so you can tell this important part of your story to all your family and guests.
Your Wedding Story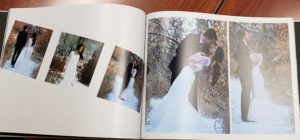 Every wedding has a story behind it. The story of how you met and fell in love, the story of your engagement, and the story of your life together beginning. A wedding book not only shows off all your photos, but helps you share that story with others.
With a wedding book like this, you can create it prior to the big day. Fill your book with photos from your dating life and engagement. Viewers at the reception will be able to see what your life was like prior to the wedding and be able to share in your story. If you are going this route, remember to create your wedding book well ahead of time! Read up on our shipping FAQs to make sure it will get to you in time.
Or, build your wedding book afterwards! Fill your book with photos and stories from the ceremony, reception, and honeymoon to remember the whole event. You'll have plenty of time to make your book the perfect celebration of the start of your life together.
Wedding Photo Books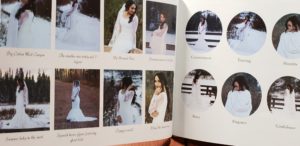 A book is one of the few places you can display all of your favorite photos. That's what this bride did with her custom wedding photo book. She put her favorite bridal photos on one page, showcasing her humor as she did so.
Select a theme that goes well with your wedding photos. You might choose to match your wedding colors, or find a complementary color that works with everything you put into your book. We've got plenty of themes you can use for events like an engagement or wedding! Try our Elegant Wedding, Orchids & Lilies, Sophisticated Wedding, Modern Wedding, or Formal Wedding templates. Each comes with a slightly different style that might be perfect for the look you want.
How will you make your wedding book dreams come true? Head over to https://www.mycanvas.com and begin creating your perfect wedding photo book today! And while you're still planning your book, check out our tips for wedding photos!