The Family Tree
I found a quilt top that tells its own story. The names of the women who made its pieces are stitched on each square in a variety of colors and lovingly prepared. The names are my maternal grandfather's family. When I started closely examining it, I realized they were not only his mother and her sisters or his maternal grandmother. There were also two names from his father's family. Beside each name is the year or date of birth.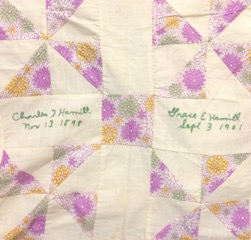 There isn't really a pattern to the quilt. The names of the women are blended together, much like our family; so full of different individuals all coming together to make one unit. There are four main families on the quilt: Dowlen, Hamill, Watt, and White. So many of the quilts featuring women's signatures often followed a stencil. They would sign their name to the quilt square and then they would stitch over it. So, looking at this quilt I'm looking at the signatures of the women in my family.
This quilt top also has a bit of a mystery. In the middle of all of the names of women, there is a single man's name on the same square as a woman's name. Upon doing further research, I realized that this square represented a husband and wife. She had married into the family and is the only daughter-in-law who identified her husband on the quilt top. She is Grace Hamill, the wife of Charles Hamill, no doubt stitching his name next to hers so that those who came after would know how her piece fit into the puzzle.
The Quilt Top
Row 1:
Arlene Russell – Dec. 9, 1917
Mary Tefft –  May 2, 1903
Wilma Grayson – March 27, 1913
Dorothy Taylor – August 2, 1908
Row 2:
Nellie Fairchild – September 22, 1901
Alice Souders – February 9, 1880
Lorena Wilson – march 18, 1875
Alice Watt-Bell February 1, 1903
Nettie Hamill – October 5, 1893
Row 3:
Edith L. White – March 3, 1879
Jane Holmes – May 2, 1878
Cora Watt – March 2, 1882
Tillie Hamill – December 5, 1887
Eula Watt – September 11, 1914
Row 4:
Edna Taylor – October 6, 1884
Lizzie Van Meter – April 16, 1892
Mary Hamill – April 3, 1855
Susie Cleaver – March 31, 1889
Berneta Cleaver – Sept 1, 1912
Row 5:
Marie Rudolph – May 18, 1906
Ethel Watt – August, 8 1904
Leona Russell – August 13, 1878
Laura Worley – January 15 1895
Anna Beeler – July 22, 1877
Row 6:
Lela Worley – December 1, 1906
Minne C. Hodgedon – October 20, 1900
Charles Hamill – November 13, 1898
Grace E Hamill – September 3, 1901
Alice White – February 14, 1902
The Quilt Top Legacy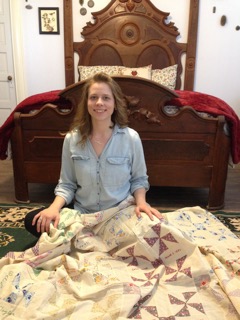 I have often been aware of the women who came before me who did their part to preserve our family history. From mother to child, cousin to cousin, and grandparent to grandchild – each piece that has made its way to me has done so because of the love and dedication of my forbearers. What is the legacy of this quilt? A thing, pieced together by multiple hands that represent different generations? I can tell you – its legacy will be to represent my family tree, as it was created to do. But, it is retired now. It won't worry about backing or padding or wear or tear. It will be framed, so that all of the names of these women (and one man) can be searched for and seen at one time – a testament to our heritage.
So what does this find mean for you? I'll tell you this: never limit your research to pictures and documents. Our ancestors were living and breathing people too. If you find material culture they've left behind – like the quilt top – consider it to be just as valuable as a census record because it gives you insight into who they were and what they loved.
_
About Heather Wylie
Heather is an amateur genealogist and founder of An Unexpected Discovery and The Ambrotype. She loves uncovering the mysteries of family history. She has two masters degrees and is in the process of restoring her family home, which is over 100 years old.
_
Upcoming Guest Bloggers
Last Week – Connie Yen – "Messages From the Past"
Next Week – Sir Leprechaunrabbit – "You Can Draw a Memory"
June 7, 2016 – Rich Venezia – "From Grandma, With Love"