We've been having so much fun at RootsTech 2016! There are so many genealogist here, and such a huge variety of ways to do family history! Not only can you find a family history research tool that works best for you, but there are a multitude of ways to preserve memories, whether with customized family tree charts, family history jewelry, kids coloring books, and more! If you get a chance, grab a hot dog, and enjoy!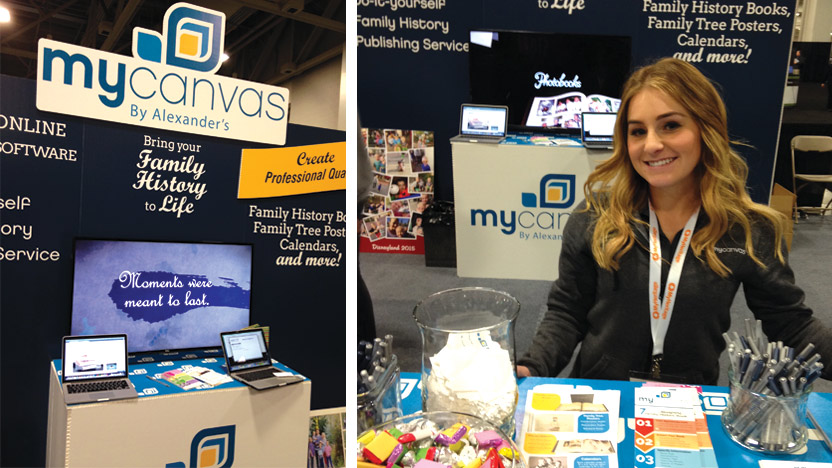 Here's what we've been busy with at our booth, 805, in the front next to Ancestry:
See Our Product!
Come flip through our samples and see all the great things you can create at MyCanvas! We are available to answer all of your questions! Come see our projects for yourself…
Family History Books – Create beautifully family history books with our free, online templates (found under the photo books tab at MyCanvas.com). If you have an Ancestry.com account, you can streamline the creation process, and download your Family History research directly from Ancestry.com into our customizable templates. Show off family trees, timelines, census records, and more!
Family Tree Posters – Build manually, or download your history directly from Ancestry.com. Create a standard poster, which shows one person's ancestors back through the generations; a combination poster, which shows the family history of both husband and wife, as well as their children; or create a Descendant poster, which show's a couple's descendants down four generations!
Photo Albums – Use our templates to get started, or build from scratch! Both options are completely customizable. Move photos, add frames, change backgrounds, add text, and decorate with embellishments! Create wedding albums, baby books, vacation albums, and more!
Calendars – Use our templates to get started, or build from scratch! As with our photo albums, our calendars are completely customizable. Start on any month of the year! Add photos to individual days to customize birthdays, holidays, and anniversaries. If you have an Ancestry.com account, download birthdays directly into your calendar!
Remember, MyCanvas is a FREE online software. You only pay for the projects you choose to purchase.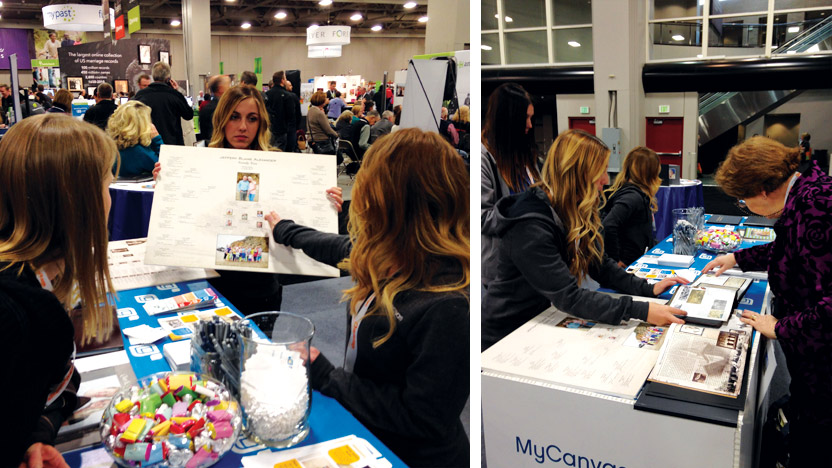 Handouts and Swag!
We hope you enjoyed our presentation yesterday, "Designing History Books – So Easy Your Ancestors Could Do It". If you missed out, just drop by our booth, 805, in the front next to Ancestry! We have a handout of how to create your Family History book in 7 easy steps. As a bonus, our handout doubles as a ruler, because family history rules!
In addition, feel free to grab a pen, a pad of paper, and a handful of chocolate! – All essential items to take notes during the conference, as well as keep you going!
Remember Your Discount!
Be sure to grab our product flier. On the back is a special discount exclusive to RootsTech 2016 attendees!
Enter our Giveaway!
Not only are we giving away swag and discounts, but MyCanvas is giving away one chance to win $500 worth of MyCanvas Product as well as five $100 giveaways! Drop by our booth and enter to win! Simply grab a card, fill it out, and drop it in the jar or hand it to one of our representatives. We'll contact the winner via email so, though you need to be present to enter, you do not need to be present to win.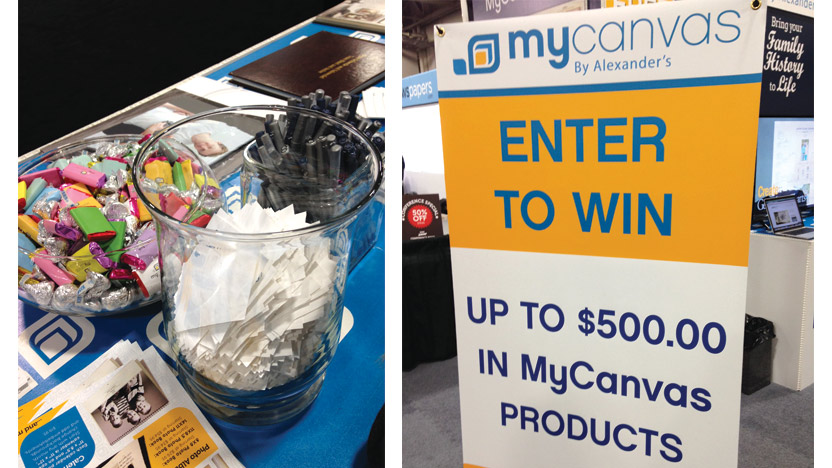 We hope to see you at RootsTech!