So you've just had the most amazing spring break ever, with all your friends in the hot sun and the warm water. You've added some color to your skin and some memories to your mind. Cool, but we've got bad news for you! The tan will fade, and the memories will too. You may say, "Oh but I'll have them on my phone!" While that may be true, as soon as you download those to your computer, chances are you won't return to reminisce. You may even forget completely about it…gasp…But you don't have to!
We've got the perfect solution for you (for the memories at least).
The MyCanvas Spring Break Photo Album Book
It's a ingeniously simple idea: take your memories with you for years to come by making a photo book full of your adventures.

We loved the idea so much that we've begun making one for ourselves. We started by choosing an 11″ x 8.5″ photo book from our products page, selected our "Surf 'n' Turf" theme layout and then filled it with our favorite spring break photos. We found some in Facebook albums, some from friends and even found some beautiful landscape images from photographers on the web. There are lots of resources out there! While finding our photos, we found it fun to reconnect with friends to get their images, memories and quotes for the book (we didn't realize we'd been forgetting things already).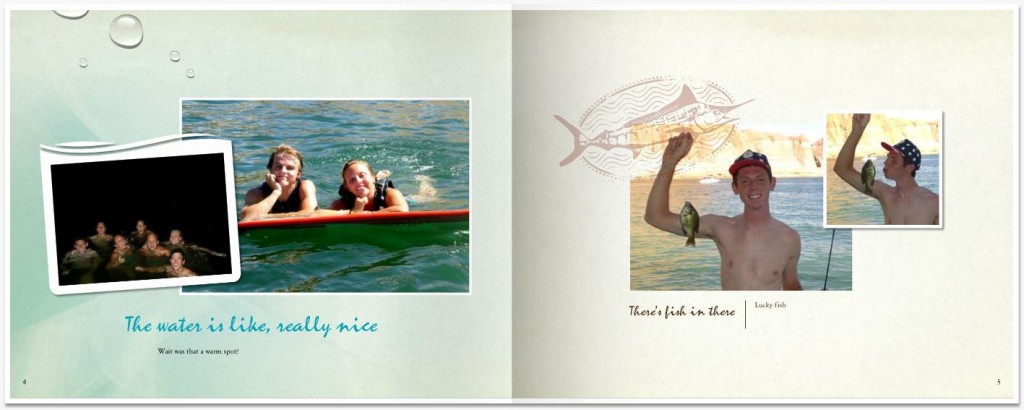 Oh, quotes. They're key to a good spring break album. You probably had a bunch of funny inside jokes that only your group will get. Put them in there! You'll definitely see them in ours.

A great feature of MyCanvas is how shareable the projects are. When you've finished your project, you can easily send it to anyone on Facebook, Twitter or via email. That means all your spring break buds can see the work you've made, and can suggest any edits to it they'd want to see. Once it's all finished, they can easily order the book for themselves. Here's a link to our book to give you a feel for what your book will look like when you share it with your friends.

What are you waiting for? Don't forget those memories (or that tan), and make your photo book today! Once it's printed, share it with your friends and family. If you need help, give us a call!