When you're gathering family members together for a special event, you can do a lot to help them feel connected. Maybe you want something a little more tangible than games and activities? But trinkets and crafts aren't always enough, nor are they appropriate for every event. Personalized silkscreen t-shirts, however, are! T-shirts help your group look unified–as a family should be. Plus, personalizing shirts makes a great statement that your family will use a lot more than a knick-knack.
Where to Use T-Shirts
Family Reunions
Got a family reunion coming up? T-shirts can be a fun way to show off your family's style, and unify the group in a huge family photo. When you're designing, think outside the box: with personalized silkscreen t-shirts, you can do anything.
Use a little tongue-in-cheek humor to make your family laugh. Everyone knows families have their dysfunctional moments, or that families don't agree on everything. Make a nod to it with a saying like: "Are these people REALLY my relatives?"
Or this one:
Want to go for something a little friendlier? Sarcasm isn't for every family! You can range from the sweet and heartwarming to the cute and simple. You can try slogans like "Of course I'm awesome! I'm a [last name]!" or "Proud to be a [last name]!" Or, if your family is as diverse as most in humor and style, you can just design your family's last name, the year of your reunion, and maybe your location. Say, if you take the whole family to Disneyland!
You can also make individual shirts for the roles of your family, such as "World's Best Grandma" or "World's Best Cousin." Whatever you pick, you'll be sure to wow your whole family with simple screen printing.
Weddings
Another great time to create your own t-shirt? Weddings! The bride and groom won't be in their fancy clothes while they're on vacation, yet they'll still be celebrating. So be sure to design cute bride/groom shirts as they go on their new life adventure together.
T-shirts don't have to be limited to the bride and groom, either. You can share the fun with your whole wedding party. Though weddings are about bringing people together, it's still fun to show off your support of your now-married friends. Have your bridesmaids and groomsmen wear special t-shirts, possibly for a photo shoot. Or, let the happy couple's families wear shirts so that everyone at the reception knows who's who in the group.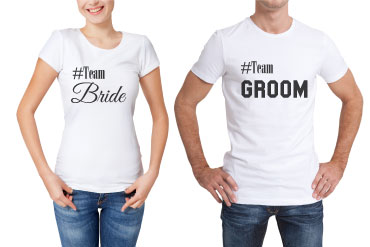 Family event t-shirts can make an event even more fun and memorable, plus they make great souvenirs! Want to make some of your own? Check out this blog by our printer to learn more and get a free estimate on printing your own custom t-shirts!