Get Started Now!
There are many methods of searching for and finding the records of ancestors, but having a creative way to share those results can be difficult. MyCanvas by Alexander's provides a way for family history enthusiasts to create a multitude of completely customized genealogy projects.
You may already be familiar with MyCanvas by Alexander's photo books. But did you know MyCanvas also makes family history books, family recipe books, family tree posters, ancestral calendars, and more? With MyCanvas.com's free customizable web templates, you can create beautiful and professional projects.
Ancestry.com has just released a FREE course on Ancestry Academy about how to use MyCanvas. This course, "MyCanvas: Creating Family History Keepsakes" has nine sections that vary in length from 3 to 8 minutes. Quickly and efficiently learn how to create and customize your own family history books, family tree posters, and more.
Ancestry Academy Course Overview: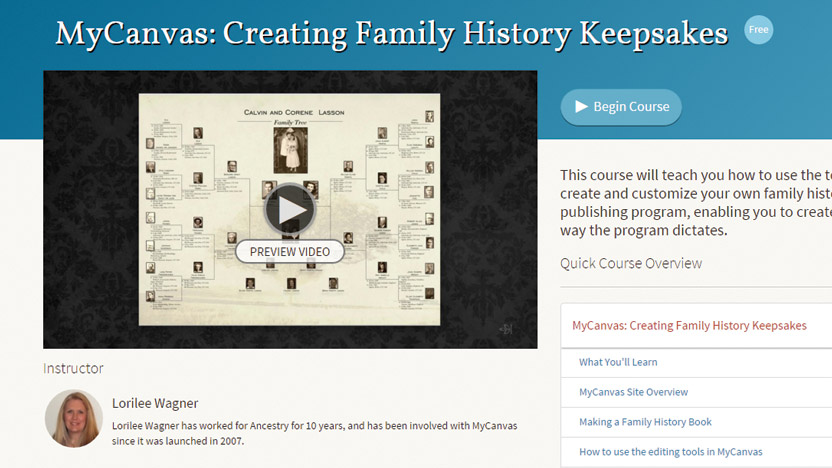 This course will teach you how to use the tools and features of the MyCanvas program. Watch each section in order, or visit just those you find most interesting.
What You'll Learn (3:13)
MyCanvas Site Overview (4:29)
Making a Family History Book (4:49)
How to use the editing tools in MyCanvas (6:37)
Discover the embellishments available in MyCanvas (7:51)
Importing additional pictures, stories, etc. from your tree on Ancestry.com (2:32)
Create a photo book (2:47)
Family tree posters (4:28)
Calendars (6:02)
Ready to get started on your FREE Ancestry Academy course? Click here.