Utah's Pioneer Day is coming up quickly! On this July 24 holiday, we celebrate the entry of the first group of Mormon pioneers into the Salt Lake Valley in 1847. We love using this holiday to celebrate our ancestors, regardless of faith or nationality, and the pioneers–literal and figurative–who came before us.
As such, we want to help you find those pioneers in your family! Wherever they came from and for whatever reason, their courage should not go forgotten.
Mormon Pioneers
If your family has lived in Utah or the Rocky Mountains for 100-150 years, chances are you have Mormon pioneers in your heritage! Due to careful wagon and handcart company records, it's easy to determine if your family came into the area as part of this migration.
To start, search your tree for ancestors who died in Utah, but were born elsewhere. These ancestors likely come from eastern states or Europe. Other places they might have died include Arizona and Idaho, since Mormon pioneers settled in these places at the same time.
Find an ancestor who matches the description? Check their name via the Mormon Pioneer Overland Travel Database. This site uses names from rosters, journals, and contemporary sources to determine pioneers who came over the plains to Utah and the surrounding territories. This also gets updated frequently, so if you're in doubt or wish to add information, you can submit a request. Remember that when you're searching for a woman to check both her maiden name and her married name, if available.
Using FamilySearch.org?
This makes it even easier to identify Mormon pioneers. All you have to do is build your tree on this site. Then, go to FamilySearch.org/Pioneers. You'll receive a list of pioneers in your family tree, verified by the Church History Library. It should look like this: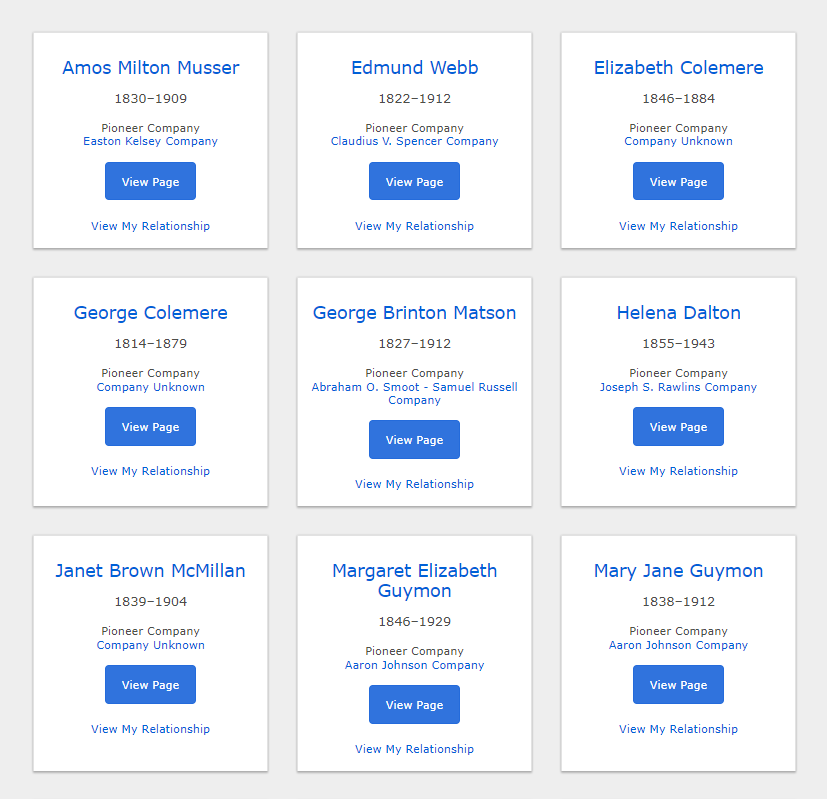 Also, as you can see, you can access the company in which your ancestors traveled. Plus you can see your relationship to them, if you don't know it already.
Westward Expansion Pioneers
Many of us have ancestors who participated in the famous Oregon Trail as well. While many of us played the video game, these ancestors lived the difficult 2,200-mile trail west.
Note that not every west-bound traveler ended their journey in Oregon. Many pioneers left the trail and settled in places like Wyoming, Colorado, Idaho, and Montana. So if you have an ancestor who came from the east or Midwest but didn't die in Oregon, that doesn't exclude them from the famous Oregon Trail group.
Look for ancestors who moved west anytime between the 1830s to the 1860s, and these almost certainly used the Oregon Trail. If your ancestor moved west between the 1860s and the 1890s, they may have used the Oregon Trail. But they also may have used a train, especially after the completion of the Trans-Continental Railroad.
If your ancestors came to the Oregon Territory before February 14, 1859, this qualifies you to join the Sons and Daughters of Oregon Pioneers. Here, you can preserve pioneer history, share your families' stories, and make great connections with the descendants of these brave pioneers.
Not part of the Mormon or Oregon Trails?
There are many other trails pioneers used to travel west. Use the same steps to search your family tree's records for westward movement and immigration. Then, check out other American trails like the Daniel Boone Wilderness Trail (used from 1775, led into modern Kentucky) or even the Trail of Tears if your family has any Cherokee ancestry.
Now Tell Their Story
Once you've found your pioneer ancestors, share their legacy. Use MyCanvas to create a beautiful family history book and hang onto those memories. You can tell the story of your family's decision to move west, focusing on those courageous pioneer ancestors. Or, simply make your pioneer heritage a page in the story of your rich family heritage. It's completely up to you with our customizable books!