Are you fortunate enough to have photographs of your ancestors?
How closely have you examined your ancestors' photographs?
Do you just glean information about the person(s) other than just their facial features? Do you look beyond the family resemblances?  If not, you may be missing important information about your ancestors in a photograph.
What Personal Details Can Be Learned From a Photograph?
Look closely at this photograph of Esther Richardson Talbott (left) [my great grandmother], Nannie Lee Farson (right) and Harriet Elliott Richardson (center).
At first glance, as a Richardson descendant, I was thrilled to have a photograph of both my great grandmother and my great-great grandmother. Nannie Farson was Esther's best friend from childhood.
Closer examination of the photograph revealed my great grandmother Esther was left handed! This photograph also gives a glimpse into a favorite activity of both Esther and Nannie Lee.  Both were prolific letter writers and the photograph shows them doing exactly that.
Examination of the following photograph of Esther's mother Harriet Elliott Richardson revealed she, too, was left handed. To my knowledge, this trait did not pass down our side of the family. This information about my great and great-great grandmothers does not extend the family line back, but in the absence of living individuals who still remember the women, the photographs did provide previously unknown personal information about the women themselves.
Who Else May Be "Hidden" in Your Ancestors' Photographs?
Look closely at those more candid snapshots of your ancestors. Who is in the background?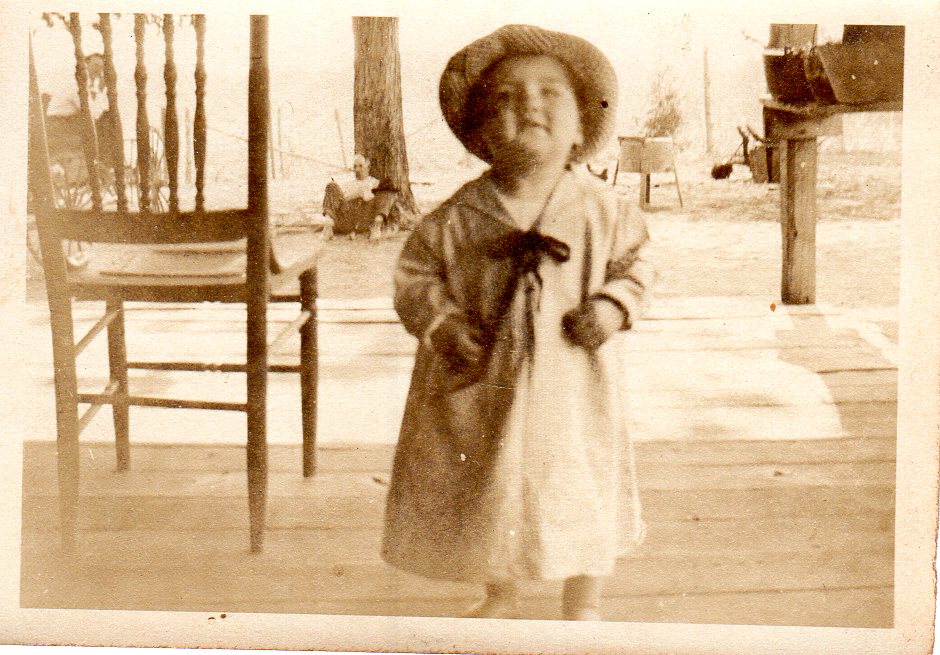 Original photograph (Source: Private collection of Lisa Lisson)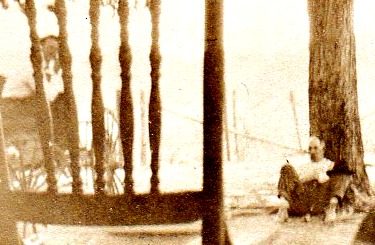 Close-up of Men in the Background (Source: Private collection of Lisa Lisson)
In the examination of the first photograph, the man leaning against the tree was initially overlooked. Looking closer, I had discovered I had a photograph of my great-great grandfather Joseph Merritt Talbott! Few photographs exist of Joseph M Talbott, so this was an exceptional find. The man sitting in the wagon on the left has not been identified (yet!).
Tips for Examining Your Ancestors' Photographs
Keep in mind the origin of the photograph. Who owned the photograph before you or who currently owns the photograph. This information will place unidentified individuals on the correct side of the family.
Identify all individuals in a photograph including the people in the background. Use photo editing software to enlarge photographs for a closer look at the backgrounds. These individuals played a role in your ancestor's life and were part of your ancestor's FAN club (Friends, Associates, and Neighbors). They may become important in your future research.
Pay attention to what your ancestor is doing in the candid photographs. Often the activity or the setting will provide clues to their work and/or what they did for enjoyment.
Pull out your ancestors' photographs again! Look closer at the details. You may be surprised what you learn!
_
About Lisa Lisson
Lisa Lisson is a genealogist, blogger and Etsy-prenuer who writes about her never-ending pursuit of ancestors, the "how" of genealogy research and the importance of sharing genealogy research with our families. Specializing in North Carolina and southern Virginia research, she also provides genealogical research services to clients. In researching her own family history, Lisa discovered a passion for oral history and its role in genealogy research.
When not tracking ancestors through the records, Lisa enjoys spending time with her husband and two "almost" grown children.
You can find Lisa online at Lisa Lisson.com, Twitter, Pinterest and her Etsy store Esther's Place – Heritage Inspired Gifts.
_
Upcoming Guest Bloggers
Last Week –  Shirley Obrzud – "Researching the Probate Estate of Mary Robertson" –  Read it now!
Next Week – Terri O'Connell – "Using Facebook for Genealogy" – Read it now!
October 27 – June Terrington – "Compiling My Family Tree" – Read it now!
November 3 – Richard Cronin – "Lost Amongst the Fruits, Health & Wealth" – Read it now!
To see all 16 Guest Bloggers, click here.