We are so grateful for the opportunity we have to work with Ancestry.com in providing family history books and descendant posters to MyCanvas customers. Descendant family tree posters are just one of the many things available to those with Ancestry.com accounts.
Designing your Descendant Family Tree
The descendant tree poster can start and end on whichever branch of family history you want. It can start with you and your spouse and include all of your kids and grand kids, or it could start with your great-grandparents and include your parents, siblings, aunts, uncles and cousins. This could be a clever way to get your extended family members interested in your family history research. Imagine their response when they see their name and face on this poster!
To make a descendant tree poster, you must first create an online tree on Ancestry.com. When you're ready to build your poster, click the "Publish and Print" tab on the Family Tree interface, and then click "Create a tree poster from your tree."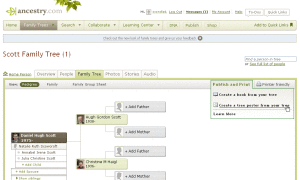 This will take you to the product selection page for Family Tree Posters.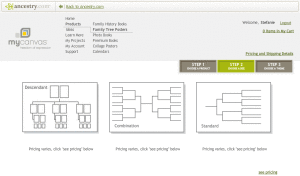 Now you have a few choices to make:
Which descendant format

The number of generations you want to include

The tree you want to use (if you have more than one)

A starting person for your poster
You can include three or four generations in a descendant tree, so make sure you pick a starting person who has at least two generations of descendants. If you are making a four generation poster, you'll probably want to choose the 36″x24″ or 24″x18″ size.
Eventually you will need to choose the orientation for the poster: landscape or portrait. This will depend on the shape of you tree, so you might want to experiment and see which one works better for you. As always, you can change the background, add embellishments and edit the text and photos to give your poster a personal touch. Please not that you can also move and copy the lines ("sprites"), in case you want to change how some of the family groups are displayed.
If you have questions regarding ex-spouses and stepchildren appearing on your tree, please review this article.
Suggestion: When you receive your new descendant family tree poster in the mail, make sure to buy a frame for it. Show off your handiwork and preserve your creation for your relatives to see.