One of the most important parts of the holiday season is how we celebrate it. As you're keeping track of your own holiday traditions, see how people around the world celebrate. Did these traditions belong to any of your ancestors or family members?
Austria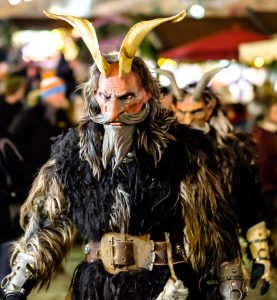 You might have more than coal to worry about if you're bad before Christmas! In Austria, St. Nicholas has a scary partner in Krampus, a monster who captures or punishes naughty children while Saint Nick tends to the good ones. Horned and frightening, Krampus swats at children with birch branches. Young men dress up as Krampus on the Feast of St. Nicholas (December 6) and may ring bells or pretend to scare young ones.
Venezuela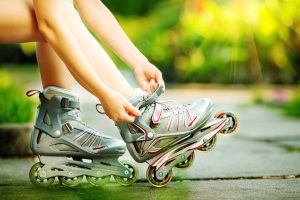 On Christmas Eve, people in Caracas, Venezuela head to church for Christmas services. That's no so unusual for most of us–but the people of Caracas travel by roller blades! It's so popular that the city closes roads for safety on the way to church and back. Afterwards, they sit down to enjoy tamales, a steamed cornmeal wrap stuffed with meat.
Philippines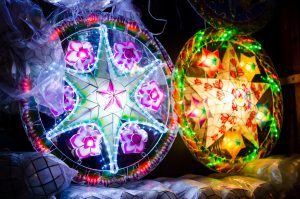 In San Fernando, eleven barangays (villages) hold the Giant Lantern Festival on the Saturday prior to Christmas Eve. And we mean giant! These huge lanterns can be around 19 feet in diameter! They are lit with electric bulbs to create an entrancing kaleidoscope effect. These villages compete to create the best lantern as they attract visitors from all over the world.
Japan

Though we're all familiar with this fast food chain, Japan takes KFC to a new level! An advertising campaign in 1974 led to many Japanese families having a Christmas feast of Kentucky Fried Chicken.
Ukraine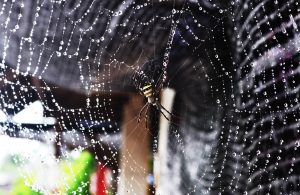 While most of us shudder at the thought of spiders, one particular spider is the hero of this story. Once upon a time, a pine cone fell on the earth floor of a widow's hut and began to grow. The widow and her children cared for it until winter, but though it was a tree by Christmas Eve, they could not decorate it. The children went to bed, sad that they could not have a festive Christmas. However, the next morning, a spider had spun her web all over the tree. The first rays of sunlight turned the webs to silver and gold, making the family wealthy. In honor of this spider, Eastern Europeans hand ornaments that look like spiders and believe that a spider or a web on a Christmas tree is good luck.
How does your family celebrate? How did your ancestors? Share your cultural holiday traditions with us!