We each celebrate Christmas in unique ways. Whether you are a newlywed preparing your first Christmas, a first-time parent recording baby's first Christmas, or an empty-nester teaching traditions to your grandbabies, Christmas traditions deserve to be recorded.  Consider these 5 fun ways:
Journal
Whether in a daily, handwritten journal, a weekly electronic journal, or a yearly newsletter, writing is a great way to preserve your family's Christmas traditions. Best of all, writing adds a personal element to the traditions because you are able to record your opinions, reactions, and favorite moments, bringing stories of your Christmas traditions to life.
Videos
Videos are great ways to record memories that are hard to describe. Consider how much more meaningful traditions of singing Christmas carols could be if you could actually hear the songs! Even Christmas morning has many sensory details, such as the ripping sound of wrapping paper, and those excited squeals and giggles.
Photography
Photography is best for recording visual traditions, such as making gingerbread houses, stringing popcorn, or even opening presents Christmas day. If you record your Christmas memories and traditions with photography, consider these 31 photo suggestions by the Digital Scrapper Blog, as well as these 5 tips for capturing the most memorable Christmas photos.
Scrap Booking
There's nothing quite like the feel of buttons and glue in your hands. Decorate your Christmas photos with your personal embellishments, such as the receipt of your family dinner, those ticket stubs from the weekend movie, or bits of your favorite wrapping paper. Though in the moment, those items may seem like garbage, later, you'll be able to look back and see the way your family's tastes, habits, and traditions change.
Custom Photo Books
Not a fan of the glue and tape involved in traditional scrap booking? You don't have to miss out on the fun! Create custom photo books! At MyCanvas.com, you can select a book theme or build your own from scratch! Choose from a variety of backgrounds, frames, embellishments, and more to show off your Christmas traditions. Add text that's decorative, or informative. To get started, click here.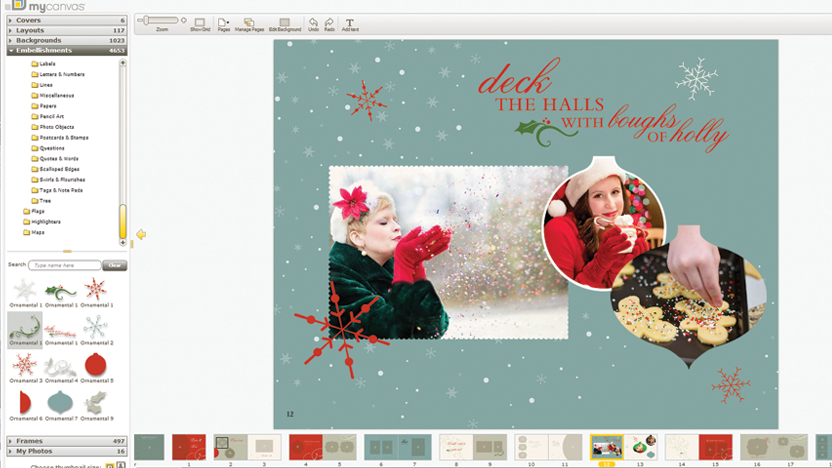 What are some of your favorite Christmas traditions?