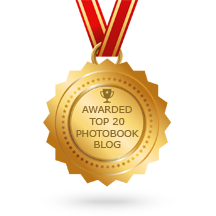 Wondering about the new badge on our site? MyCanvas has ranked 10th in Feedspot's Top 20 Photobook Blogs! This means our blog ranks highly on Google. And, not to toot our own horn, but it also means we post consistent, quality blogs. We're honored to have this recognition and to share that with our followers.
Top 20 Blogs
Feedspot is the best place to find your favorite websites in one place, and to discover new ones. When they choose these 20 photobook blogs, they rank based on the following criteria:
Google reputation and Google search ranking
Influence and popularity on Facebook, Twitter and other social media sites
Quality and consistency of posts.
Feedspot's editorial team and expert review
These other sites, like MyCanvas, post 1 to 2 times per week, keeping you updated with fresh photos and content. MyCanvas is among the newer sites, beginning to post in 2015. The oldest-running blog is #18 ZoomIn, starting in April 2007.
Coming in first place was The PhotoBook Journal, an e-zine that "provides commentaries about contemporary photobooks, monographs of contemporary photographers, and experimental artist books." That puts us in good company with other great sites!
You can visit the list here: https://blog.feedspot.com/photobook_blogs/
We're extremely proud of our accomplishments and we thank Feedspot for this recognition. And, naturally, we want to thank you, our readers. Thanks for sticking with us and giving us your support!