Family trees today can still be found having empty branches. Alongside one name is perhaps a year of birth, but little else to explain away that long-lost relative, a loved one who had gone in search of America's Paradise. But archives can often provide answers, sometimes in the least expected places.
This Place Was to Be the Death of Him
John BIGELOW built an extravagant mansion overlooking Central Florida's Lake Maitland. The year was 1875, and at the time, there was little else comparable to the lavish residence and hotel in all of Orange County. Situated at mile 16 of a 22 mile dirt trail leading to Orlando, Bigelow's chateau not only became a landmark on the historic 'First Road to Orlando', it added as well local meaning to an old adage, 'the place was to be the death of him!'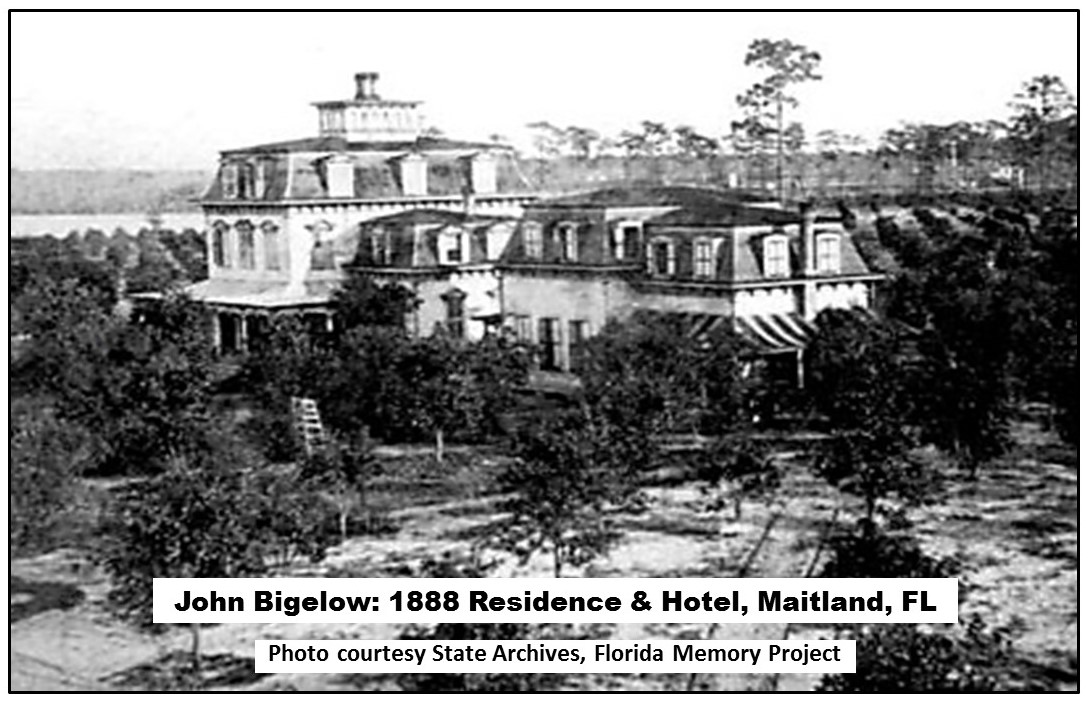 Unlike Florida Cracker homes of that time, Bigelow selected a design more reflective of his proud New England heritage. He chose a French inspired Mansard roof, then capped off his enormous castle-like masterpiece with a decorative Cupola. From high atop his fancy abode, Bigelow was able to enjoy a panoramic vista of Lake Maitland, his hundred acre citrus grove, and much of his ever-expanding community of Maitland.
After the Civil War, Central Florida had become a promising new home for big-time dreamers. Folks came from every State in the Union, brave pioneers who brought with them mega ideas for transforming Orange County's wilderness into America's Paradise. "Orange County in Florida", declared Burlington, Iowa's, Hawk Eye and Telegraph in 1883: "Tis summer always, there's fruits, health and wealth."
Over time though, many families in the North lost track of relatives who had dared to venture into the wilds of Florida, and at times for good reason. Central Florida seemed to have a way of turning the most promising dream into the worst of nightmares, including John Bigelow's.
An Unwitting Eulogy
Though not much else is known of our John Bigelow, he popped up in a newspaper article summarizing an 1883 visit to Maitland by President Chester A. Arthur. "As the procession of buckboards and spring-less wagons moved along the sandy road," wrote a New York Times reporter traveling aboard President Arthur's train, "ornamental villas entirely lacking in Southern architectural features were seen." The Presidential train had stopped to visit the winter residence of "Lewis Lawrence, of Utica, New York," a wealthy Capitalist in the North, and prosperous Orange County citrus grower in the South.
The New York Times reporter had not been impressed with Florida, writing they had all grown tired of the State's "rank undergrowth of palmetto grass." But the reporter did seem impressed with a few of the newer structures along their path, those having a distinct northern style. "One very large home," the reporter wrote, "erected by John Bigelow of Boston, Mass., was pointed out."
President Arthur arrived at Maitland in April, 1883, but by October of the same year, the estate of John Bigelow had been sold. Bigelow's place in Central Florida history was, in a heartbeat, lost amongst the fruits, health, and wealth of America's Paradise. Or would have been if not for the New York Times reporter of 1883, writing of the President's bumpy buckboard tour of Maitland, Florida, and unwittingly added in passing a eulogy for one of this town's earliest pioneers. "While surveying from its Cupola his broad plantation of 100 acres, Mr. Bigelow was struck by lightning and instantly killed."
History and Genealogy
History and Genealogy complement one another, transforming mere historical events into captivating stories of yesteryear. For me, I find this especially true of 19th Century Central Florida, as Maitland was but one of 150 new towns founded by Orange County newcomers during the 25 years between 1870 and 1895. Many of these planned cities are no more than Ghost Towns today. Barely remembered, each of these places had once been home to the most courageous of souls, pioneers who dared to dream a dream.
A locale I fondly call CitrusLAND, Central Florida is chock full of remarkable people who endured the most extraordinary of events. They were among the bravest of authors in a fascinating story that is America's amazing history.
_
About Richard Lee Cronin
Richard Lee Cronin has authored 4 books on 19th Century Central Florida: 'CitrusLAND: Curse of Florida's Paradise', and 'First Road to Orlando' are each historical in nature, telling of the pioneers and Central Florida's earliest settlements. 'CitrusLAND: Ghost Towns & Phantom Trains,' and 'The Rutland Mule Matter,' are Novels that are based on two historically accurate events of the 19th Century. Find out more about Rick and his books on his blog, and Author Page, and follow Central Florida's fascinating story via Facebook.
Books are available at Amazon.com & the Winter Garden Historical Foundation Museum in historic Winter Garden, Florida.
_
Upcoming Guest Bloggers
Last Week – June Terrington – "Compiling My Family Tree" – Read it now!
Next Week – Linda Eccles – "Right Name, Wrong Body Syndrome!" – Read it now!
November 17 – Marsha Foreman – "The Importance of Family" – Read it now!
November 24 – Jennifer Gibby – "Capturing Moments of Memories" – Read it now!
To see all 16 Guest Bloggers, click here.