Family Friday is something that I like to promote to help strengthen family bonds and get families involved in genealogy & family history. From one family historian to another, I'm sure you can relate to sometimes feeling like you're on a genealogy island alone when relatives don't always seem to share the same enthusiasm as you do. Sometimes they don't know they're enthused until you get them enthused (smile)! That's where these Family Friday activities come in! By the way, these activities are not solely restricted to Fridays – you can use whatever day is most convenient for you and your family. My family and I often use Fridays because that's when most of us have a little more free time and it sounds catchy too!
Family Photos Indexing Event
Not too long ago, I had an idea to have a Family Friday night at my "Deddy's" house. He's the keeper of all the family photos and he has thousands of them! You're probably thinking "Who?" I'm chuckling as I write this. I've mentioned this many times in my videos, but for those who don't know, my "Deddy" is my father. We call him "Deddy"; it's just like Teddy but with a D. I don't know why we pronounce it that way, we just always have…and it has stuck with him.
As I mentioned, "Deddy" is the keeper of all these family photos. I had been thinking for a while that I needed to get over there and properly index the photos, because many of them are not marked. As generations pass by, the identities of those in family photos can be lost, and I didn't want that to happen. With the number of photos he has, I knew this was going to be a major project so I was trying to mentally prepare. Then it hit me – I've got all these family members who can help and I can teach them how to properly index photos too! This was a 2 for 1 – we'd finally get the photos indexed and I had another opportunity to pump up their excitement about our family history! I took to social media to invite other families to join us in this initiative. I encouraged those families to meet wherever they could, even if it was through video chat.
As I spread the word to my family on where we would meet and what time, I began receiving their barrage of questions and comments including these popular ones: "Why are we doing this?" "I don't know how to index. We leave that stuff to you." I soon realized I needed to add an incentive to this project. I asked everyone to bring a snack and soon our project was in motion. We had 4 generations participate!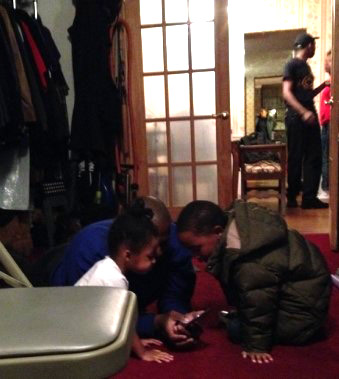 (Madam Ancestry's personal family photo)
We didn't get through all of the photos because many took a detour down memory lane, but it was a great start, and opened the door to some additional conversations about our family history. Overall, it was a success! They then began asking when we would have another one!
Setting It Up
Maybe you're interested in getting your family together but don't know where to start. Family Friday can be about whatever you want it to be about as long as the focus is family. You know your family best. Here are a few suggestions to get you started:
Have a movie night and watch some old family videos, or maybe have a movie night and just bond over favorite movies.
Call a family member and ask questions about the family. You may learn something new about family or may be able to help that person learn something new about family.
Get the family together for dinner and gather family recipes. Some of the best memories are created around the dinner table!
If you think you'd like to pull out the photo albums and have your own family photos indexing event, check out my blog post (http://madamancestry.blogspot.com/2015/11/what-we-learned-from-family-photos.html ) to see what worked and didn't work when my family participated.
REMEMBER: Have fun and continue making great family memories!
_
About Madam Ancestry
A native of Georgia, Madam Ancestry is a family history enthusiast and the family historian of her family. Her interest in researching family history began as a teenager, with her curiosity about certain people and events within her own family. Madam Ancestry takes pride in her family history and loves to help others achieve the same. Her mission is "Connecting families one ancestor at a time". She is a member of the local and national chapters of AAHGS (Afro-American Historical and Genealogical Society) and is involved with other genealogy groups in her area. You can always stay up to date by subscribing to her blog or following her on Twitter and Facebook! Make sure to also check out her website www.madamancestry.com!
_
Upcoming Guest Bloggers
Last Week – David Allen Lambert – "Sharing and Sourcing Oral Histories"
Next Week – The Cousin Detective – "Who Are All These People?"
April 19, 2016 – Lynn Palermo – "Family History: From Blog to Book"