Sweden. A country that conjures up images of ABBA, safe cars and furniture that you buy flat and have to put together. If you have ever done any research into Swedish ancestors, however, Sweden will also conjure up names like 'Johan', 'Olaf', 'Anders Andersson', 'Olaf Olafsson' and of course their children 'Anders Johansson' and 'Johan Olafsson'. But Swedish genealogy doesn't have to be all headaches and mazes of Johans. With careful preparation and an understanding of how Swedish archives work, research in to Swedish genealogy can be very rewarding very quickly.
Swedish Records
Swedish records are very complete, thanks to a kingdom-wide church law passed in the 1600's that resulted in all parishes keeping records. The main Swedish genealogical documents you search will be found within the Evangelical Lutheran Church records. These include birth (födelselängd)/baptismal records (doplängd); marriage records (vigsellängd)/banns (lysninglängd); death (dödslängd)/burial records (begravningsläng); and the household examination records (husförhörslängder).
Birth and baptismal records include the child's birth and christening dates. Names of the parents along with their residence can sometimes be found. If lucky, you will also be provided the ages of the parents.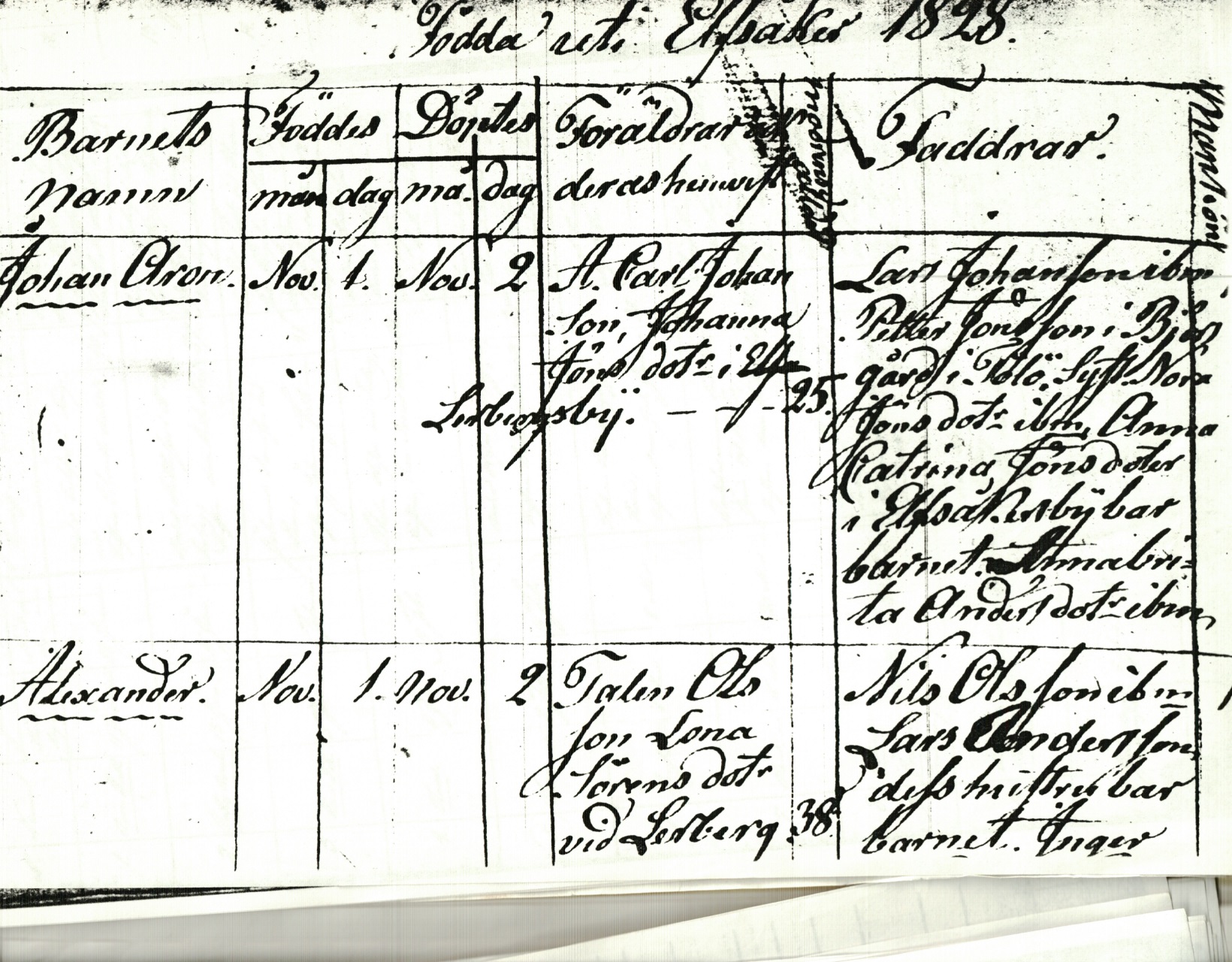 Marriage records and banns will include the dates for the banns and marriage and will generally give information about the residence of the bride and groom. Sometimes the parents' of the bride and groom and ages are also included.
Death and burial records include the following: death date, death place, burial date and burial place.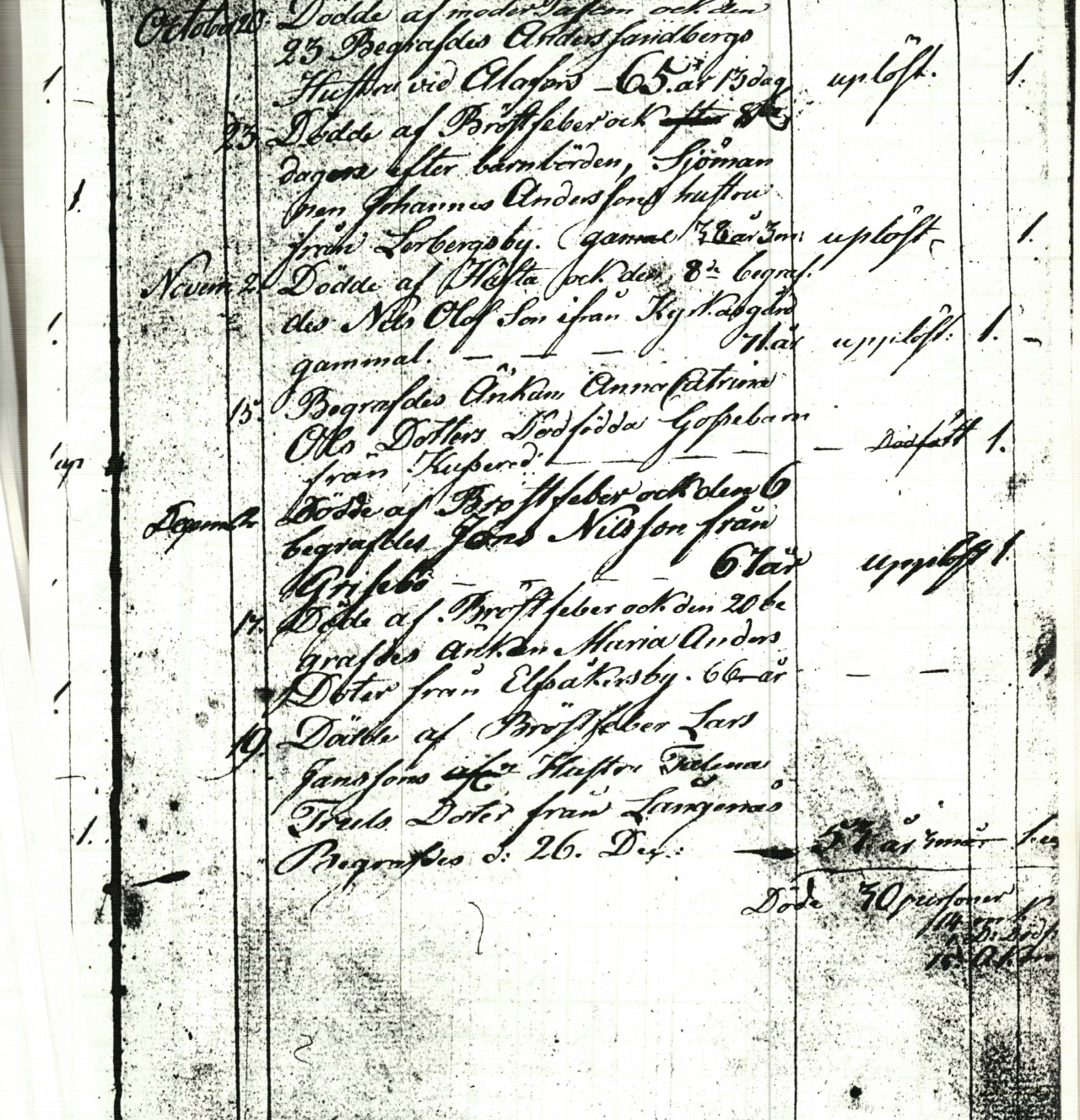 Household examination records were, in essence, census rolls, and provide information which will be familiar to those of us who have examined other census documents. The following information can be found for all members of a household: names, occupations, relationships, birth dates, birthplaces, departures and arrivals, marriages and deaths. Additional information can also sometimes be found, including educational status and criminal activity. MyHeritage recently released almost 50 million Swedish household examination records dating from 1880 to 1920[1].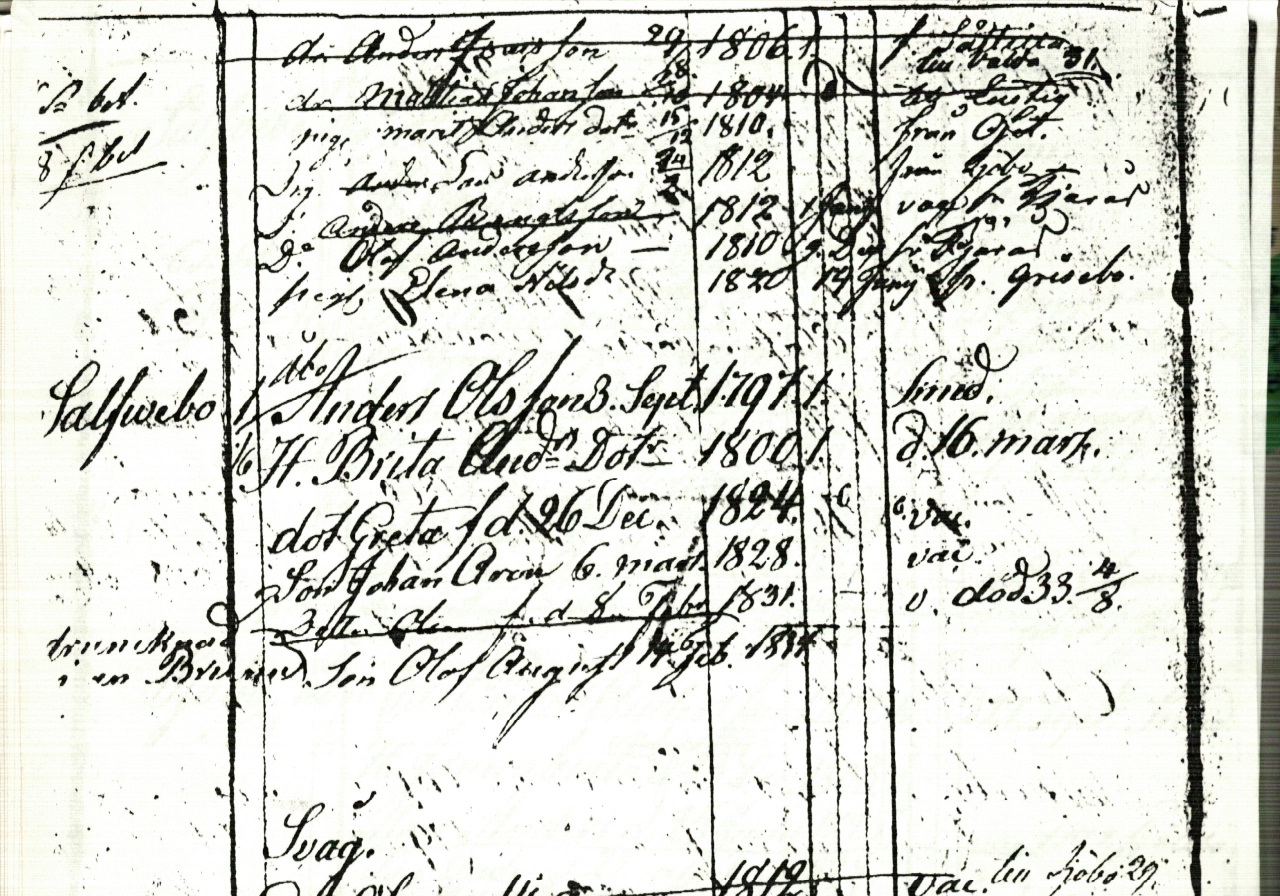 Swedes could not leave their home parish without an exit permit (flyttningsbetyg) issued by the pastor. This document provides a person's full name, date and place of birth along with a character reference and their knowledge of the Bible. The parish to which an individual moved is often also included and, for those who emigrated to America, 'Norra Amerika' is listed. Sadly, these documents are not very common, having been lost through the years.
Anders Andersson, his father Anders Andersson and his son Anders Andersson
You may find yourself with a list of names and will be faced with the maze that is the patronymic surname. Patronymic surnames were generally derived from the father's given name with the addition of the suffix '-son' or '-dotter'. Sweden continued the patronymic naming convention until 1901.[2]
Changes of name, spelling and simple errors of transcription cause a number of headaches. When searching a surname 'Johanson', for example, one should also search 'Johansson' in the Swedish records. Additionally, many female Swedish immigrants changed their names from the patronymic –dotter to –son, so if you have an 'Anna Johansson' in your tree, searching for 'Anna Johansdotter' in the Swedish records may yield results.
A good starting point is the wonderfully complete (57 million record images in color) Arkiv Digital[3]. This website, available in both Swedish and English, is the largest provider of Swedish Church Records (and other historical records) online. This is a subscription-based service and subs can be bought for anywhere from 1 week to 2 years. A one-year subscription costs approximately $150.
The first steps to researching Swedish ancestors can be difficult. Once the first steps are complete, however, Swedish genealogical research can be (and often is) quite easy and straight forward. Thanks to the excellent record-keeping research is usually possible back 200-300 years.
Useful Websites
_
[1] My Heritage, Sweden Household Examination Books 1880 – 1920, (http://www.myheritage.com/research/collection-10180/sweden-household-examination-books-1880-1920 : 20 November 2015)
[2] Wikipedia, Scandinavia Family Name Etymology: Sweden, (https://en.wikipedia.org/wiki/Scandinavian_family_name_etymology#Sweden : 30 November 2015)
[3] Arkiv Digital (http://www.arkivdigital.net/ : 20 November 2015)
_
About Erin Tilley
Erin Tilley is an Australian, living in France, with Swedish, English, Irish and Scottish ancestry. She is a postgraduate student in Genealogy, Palaeography and Heraldry with the University of Strathclyde. When she isn't battling with source citations to make sure they're perfect, Erin can be found daydreaming about Narnia and wishing she could have tea with Mr Tumnus. Find her on Twitter and at her website.
_
Upcoming Guest Bloggers:
Last Week – Terri O'Connel – "What's in a Name? | One-Name Study Guide"
Next Week – Melanie Frick – "Finding the Stories in an Old Photo Album"
July 5, 2016 – Linda Eccles – "Serendipity"
See all 15 Guest Bloggers here.