Your gift last year was great, but this year we are hear to help inspire you! We want to help you step up your game and get something for your mom that she'll never forget. It may not be as simple as buying a gift card or even more simple…a Hallmark card, but we are convinced that moms have enjoyed handmade gifts since Elmer's glue and construction paper first met in your kindergarten class.
Although the personalized Mother's Day gifts that we suggest do not include Elmer's glue and construction paper, the amount of love that you can put into these gifts will produce the same amount of tears.
A poster that shows how cool she is
Design a beautiful, customized poster. She'll love it because let's face it everyone, including her, loves to be told how great they are. Make a collage-poster full of pictures of her in various places, doing different activities. She'll love to see all the adventures, memories and vacations in one place.
Facebook is a great place to look for photos. If you can't find them there, start taking pictures of her doing cool things and surprise her with new photos she hasn't seen!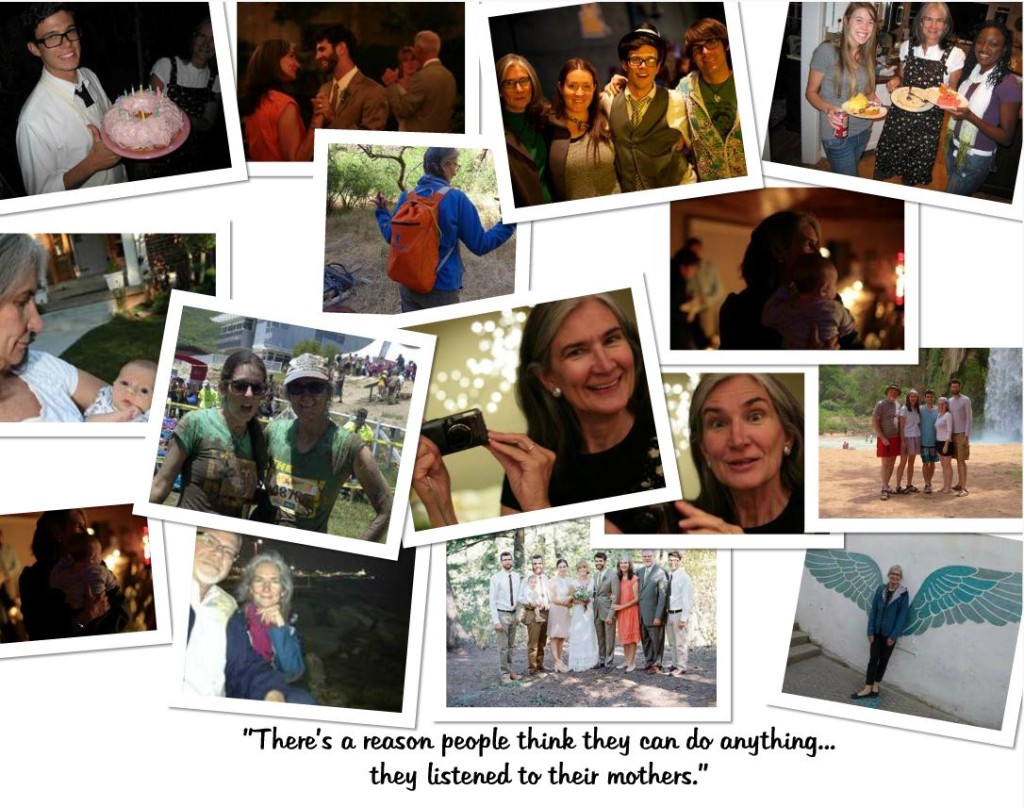 Memory-filled photo calendar
Think back to your childhood and the great times you had. Take some of those memories, and describe them with words and pictures on each page of a calendar. If you know the month it took place in you could add that as well. If you can't remember exactly, do a guess-timation. Either way, your mom will love getting to February, turning the page and having a flashback to making Valentine's Day cards with you. Or, in the case below, spring soccer season in April.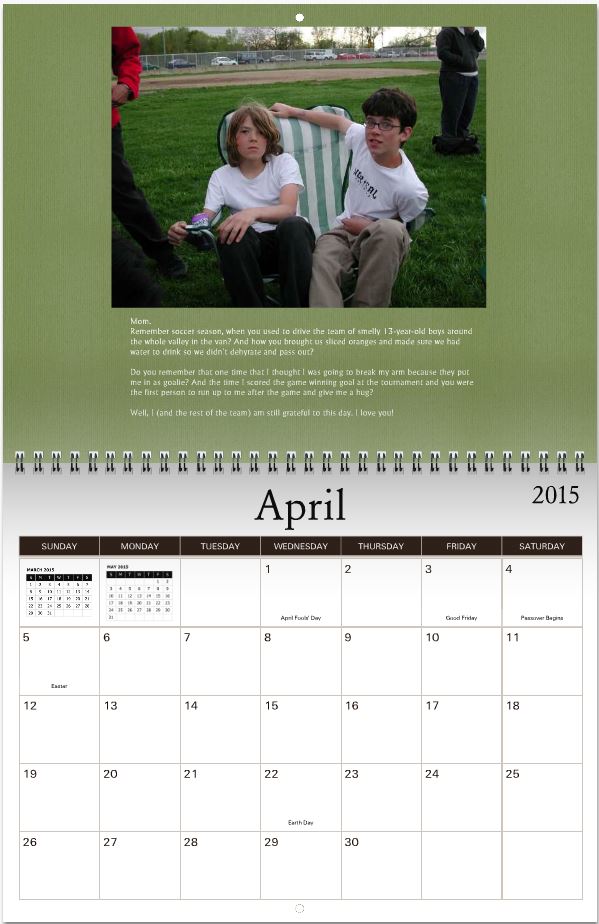 A storytelling photo book
For this one, think of a way to tell the story of your life, and weave in how your mother was involved throughout the process. Use photos from your childhood, teen years and more to show how she really was there supporting you every step of the way. Pick some quotes about a mother's touch and place them by the photos to add even more meaning to the book.
Making your gift for a future mother? Show your wife or girlfriend how much you love them with a book showing how they supported you since the start of your relationship, like this one:
There you have it. See what we mean? If you want even more of an effect, call up your siblings and collect family photos and stories from them. They will surely want to be a part of the personalized Mother's Day gift of the year!
Also, we'd like to personally thank all the mothers and strong women out there that make this world a better place!
THANK YOU!
Check out all our products here, and feel free to give us a call for any help you need setting your gift up!