You think all of your photos are perfect…until you decide to preserve them in a printed photo book. Some of our customers get discouraged with their projects when they realize that their photo's aren't as good as they hoped. But there is still hope!
Any photo can be saved with basic photo editing knowledge. These simple tricks are easy to learn, and the perfect solution for saving bad photos.
Turn it black and white
This technique is perfect for blurry or over exposed photos, and it is one of the easiest photo editing techniques to master. By changing to black and white you smooth out the blurry parts and soften the lighting on the over exposed areas.

Turn it into pop art
Perhaps you've found a picture that you love, but the lighting is bad, or the angle is a little strange. Use online photo editing programs like Rollip to change the filter and turn your bad photos into Andy Warhol style images.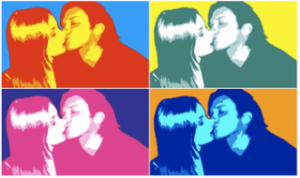 This trick really depends on the style of the photo book. No way are you going to insert pop art into a wedding album, for example; but this look works well with photos from family trips, spotlighting a family member, and unique scenery.
Make a panorama
This trick will come in handy if you ever have a series of photos that you wish to combine into a large panoramic shot.
Nowadays you could do this on your phone while you take the shot, but if you have old photos that you'd like to combine into one scene, you can use this free software to make it happen.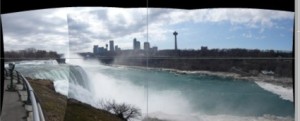 Remove people
Famous landmarks and vacation spots are often packed with tourists, it makes it so you don't have a choice of who is in your picture. But with some basic Photoshop knowledge and a collection of similar photos, you do have a choice!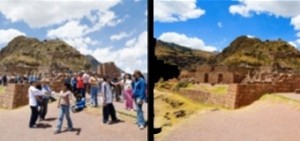 This trick only works if you have multiple photos taken at the same location and access to Photoshop, but basically the process involves erasing the people and filling in the blanks with details form other images. It's by the far the most sophisticated trick on this list, but it's definitely worth a try.
If you would like help editing photos for your project, please contact us. We'd be happy to salvage and preserve those memories for you.