This is my favorite time of the year.  Yes, I love fall colors, hayrides, and apple pies but this time of the year means so much more…
You see, something very special happened nine years ago.  My husband and I became parents.  We had just celebrated our 10th wedding anniversary.  The excitement didn't end there for us.
An Adoption Opportunity
We received a phone call from Lifetime Adoption about an adoption opportunity.  Brian and I had been on the waiting list for one year.  I was out having lunch with my mom and stepdad, not where I imagined I'd be when receiving the call.  (We didn't want everyone getting excited before it was a sure thing so we had hoped to keep everything quite until we had been selected).
Our Coordinator, Libby, shared with us that there was a birth mom that had to be matched with a couple before the weekend.  Did I mention that it was Friday?
Surprise!
The biggest surprise in this call was that the birth mom was adopting out her three birth children.  Their ages were 9 months, 18 months, and 2- 1/2 years old.  Now we wanted to adopt one, maybe two children but three…
To top it all off, we only had about two hours to consider and decide if we would put our names in the "hat."  We prayed over the decision and decided to be one of the couples presented.  God was in control, what was meant to be would be.
I spoke to the birth mom that afternoon and she chose us.  We were so excited.  Then the reality of it all set in.  Were we really adopting three children?  Could we really be the parents that these kids needed?  This questioning stopped the moment we received their photos.  We fell hopelessly in love!

The Gift of Adoption
I love my family and how we came to be a family.  Every October we celebrate "Gotcha Month." One day just isn't enough for us. We do little things throughout the month to celebrate our family.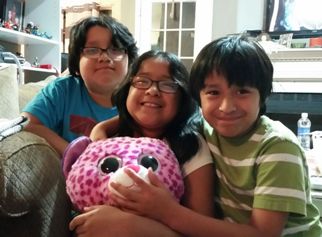 Every year on the Saturday before Thanksgiving, our nation celebrates National Adoption Day. The goal is to raise awareness and support for Adoption and Fostering. I'd like to invite you to consider:
Adopting
Fostering
Mentoring a Foster Child
Becoming an Advocate
Donating funds to help someone adopt
or Babysitting for a new parent(s)
After all, we can show that we care in more ways than just adopting. Help spread the word!
_
About Marsha Foreman
Marsha first became interested in genealogy in college when she had the opportunity to work for Mrs. Elizabeth Wells at Samford University Special Collections.  She immediately fell in love with family history and has been researching her family's history ever since 1989. Find out more about Marsha and genealogy on her blog and website.
_
Upcoming Guest Bloggers
Last Week – Linda Eccles – "Right Name, Wrong Body Syndrome!" – Read it now!
Next Week – Jennifer Gibby – "Capturing Moments of Memories" – Read it now!
December 1 – Madam Ancestry – "Hilson: A Story Behind the Name" – Read it now!
December 8 – Debra Carter – "Not Another Cemetery…" – Read it now!
To see all 16 Guest Bloggers, click here.